The rivalry between Club América and Deportivo Toluca F.C. is one of the most intense and historic matchups in Mexican football. These two teams, both boasting rich histories and passionate fan bases, have clashed on numerous occasions, producing thrilling encounters that have captivated football enthusiasts for decades. 
Since 2004, the soccer teams Toluca and Club America have competed in 55 games. Club America won 21 of them (Total goals 85, PPG 1.5), while Toluca won 15 of them (Total goals 71, PPG 1.3), and drew 19 of them.
The most recent match between America vs Toluca was Tour Águila 2023 on 24 September 2023 held at Estadio Nemesio Díez, which was 0-0.
History
Club America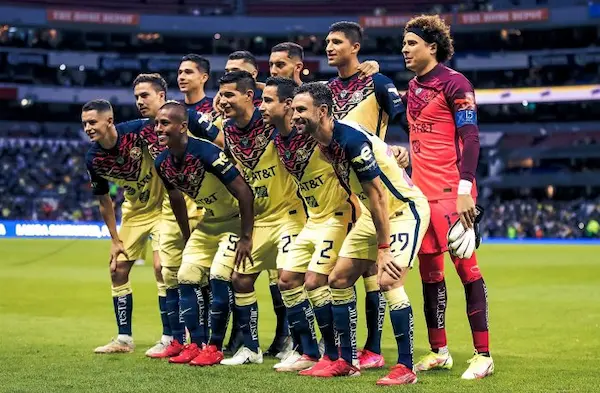 Club América is one of Mexican football history's most successful and storied clubs. It has won 13 championships since its founding in 1916. The team has a massive fan base throughout Mexico and has produced several legendary players. Here are some key accomplishments and records held by the club:
Domestic Titles: Club América has won a record thirteen league titles in Mexico's top division, Liga MX. It is the highest number of league championships won by any team in Mexican football.
Copa México Titles: The club has also won six Copa México titles, the oldest national cup competition in Mexico. Campeón de Campeones Cups: América has won six Campeón de Campeones cups, which is a match between the winners of the Liga MX and the Copa México from the previous season.
International Titles: América has achieved success in international competitions as well. They have won ten FIFA-recognized club trophies, the most for any club from the CONCACAF region. It includes seven CONCACAF Champions Cup/Champions League titles, one CONCACAF Giants Cup, and two Copa Interamericana cups. All-Time League Table: The club is at the top of the all-time league table in terms of victories and points accumulated throughout its history.
Playoff Appearances: América has made the most appearances in the playoff stage of the Liga MX, which is the postseason tournament to determine the league champion.
Finals Appearances: The club has reached the most finals in Mexican football, with 23 appearances.
Runner-Up Finishes: Along with Cruz Azul, Club América has the most runner-up finishes in Mexican football, with a total 10.
Recognition as Best North American Club: The International Federation of Football History & Statistics (IFFHS) named Club América the best North American club of the first decade (2001–2011) of the 21st century.
Deportivo Toluca 
It became a professional club in 1950 and has been in the top division ever since. They have a lot of fans and are considered one of the classic clubs in Mexico. Toluca is a Mexican football club that has been around for over 100 years. The team play in the top league of Mexican football called Liga MX. Toluca has won the league title 10 times, making them one of the most successful teams in Mexico. Won other important tournaments like the Copa MX and CONCACAF Champions League. Toluca's stadium is located in Toluca de Lerdo, State of Mexico.
Important Matches From The Rivalry's Early Years
The Dawn of a Legendary Rivalry: Inaugural Showdown Ends in a Draw (August 1st, 1964)
In the nascent stages of their rivalry, Club América and Deportivo Toluca locked horns for the first time on a momentous day, August 1st, 1964. The anticipation was palpable as fans eagerly awaited the clash of these titans. The match lived up to its billing, showcasing the raw talent and determination of both teams. With the final whistle, the scoreline stood deadlocked at 1-1, leaving spectators hungry for more and setting the stage for future battles that would define this iconic rivalry.
Thrills and Chills: Club América Prevails in Nail-Biting Victory
October 8th, 1967, marked a date etched in the memories of football enthusiasts. Club América and Deportivo Toluca faced off in a high-stakes encounter that captivated the nation. The tension was palpable as the match unfolded, each team exhibiting incredible skill and determination. The rollercoaster of emotions continued until the final moments, when Club América emerged victorious with a slim margin of 3-2. This heart-stopping battle left fans on the edge of their seats and further fueled the flames of rivalry.
Dominance Displayed
Club América Seals Back-to-Back Final Wins (1975 Season) The 1975 season witnessed a culmination of rivalry as Club América and Deportivo Toluca clashed in consecutive finals. The stakes were higher than ever as both teams vied for supremacy. Club América showcased their dominance, emerging triumphant on both occasions. These back-to-back victories not only cemented their status as a force to be reckoned with but also intensified the competition between the two clubs, setting the stage for future encounters brimming with anticipation.
The Battle that Redefined Intensity
Toluca Triumphs Amidst Chaos (March 18th, 1979) Among the battles fought between Club América and Deportivo Toluca, one match stood out as a watershed moment. On March 18th, 1979, these bitter rivals clashed in a contest that redefined the meaning of intensity. The game was marred by three red cards and a flurry of fouls, symbolizing the sheer determination and fierce competitiveness between the teams. In the end, Toluca emerged victorious with a hard-fought 2-1 win, leaving an indelible mark on the rivalry and etching this clash into the annals of Mexican football folklore.
Club América's Dominance in the 2000s: A Decade to Remember
When it comes to the 2000s, one team stood head and shoulders above the rest in Mexican football: Club América. With an awe-inspiring display of skill and determination, they etched their name in history, capturing multiple titles and establishing themselves as the giants of the game. Let's dive into the mesmerizing successes of Club América during this unforgettable decade, celebrate the extraordinary talents of their key players, and relive the intense rivalries that defined their journey, particularly against Deportivo Toluca F.C.
Unparalleled Triumphs: Club América's Reign in the 2000s From the opening whistle to the final whistle, Club América commanded the pitch, leaving their competitors in awe. Here are some of their most remarkable achievements during this remarkable decade:
🏆 Liga MX Titles: In 2002 and 2005, Club América showcased their unrivaled prowess by lifting the prestigious Liga MX trophy, proving themselves as the masters of domestic competition.
CONCACAF Champions' Cup 🏆: The years 2006, 2008, and 2009 witnessed Club América's triumphant journey to the top of the CONCACAF Champions' Cup, asserting their dominance over North American clubs and hoisting the coveted trophy high in the sky. 
🏆 Copa Libertadores Final: In 2008, Club América ventured beyond their borders and dazzled in the Copa Libertadores, reaching the grand final of South America's premier club competition. Their remarkable journey put them on the global football map.
The Heroes Who Shaped an Era Behind Club América's extraordinary triumphs were the exceptional talents who mesmerized audiences and inspired their teammates: 
🌟 Cuauhtémoc Blanco: A legendary figure, Blanco's magical feet graced the pitch, conjuring crucial goals in the most decisive moments. He played a pivotal role in Club América's success throughout the 2000s, leaving an indelible mark on the team's legacy.
🌟 Pavel Pardo: The midfield maestro orchestrated the game with grace and precision. Pardo's creative flair, coupled with his ability to score from set pieces, brought a touch of elegance to Club América's playing style.
🌟 Germán Villa: A rock-solid defender, Villa provided a formidable presence at the backline. His unwavering commitment and resilience were instrumental in Club América's quest for glory, earning him a place among the team's iconic figures.
Explosive Showdowns: Club América vs. Deportivo Toluca F.C. 
The football world held its breath in anticipation when Club América clashed with Deportivo Toluca F.C.. These encounters were nothing short of epic battles, featuring moments of sheer brilliance and heart-pounding drama:
⚔️ 2002 Liga MX Final: The two powerhouses collided in a title-deciding clash. Club América emerged victorious on aggregate, with Cuauhtémoc Blanco's dramatic late winner sealing a breathtaking 2-1 triumph that echoed through the annals of football history.
⚔️ 2006 CONCACAF Champions' Cup Final: In a thrilling showdown, Club América locked horns with Deportivo Toluca F.C. for continental glory. It was a display of skill and nerve, culminating in a 2-1 victory for Club América, courtesy of Pavel Pardo's exquisite free-kick.
⚔️ 2008 Copa Libertadores Quarter-Finals: The quarter-final clash between these fierce rivals left fans on the edge of their seats. Deportivo Toluca F.C. managed to edge past Club América by a narrow 5-4 aggregate scoreline, propelling them towards the semi-finals.
A Legacy of Rivalry and Dominance Throughout the 2000s, 
They shared an intense rivalry, fueled by their fierce competition on the field and the presence of star players. While both teams produced thrilling matches, Club América's unwavering dominance ultimately prevailed. Their titles and a stronghold on Mexican football solidified their status as the team to beat, leaving an enduring legacy that will forever be etched in the hearts of football enthusiasts.
Deportivo toluca f.c. Comeback 2010s
The team made a remarkable comeback in the 2010s by implementing strategic changes. They adopted a more defensive approach, revamped their coaching staff, and focused on recruiting young talents. These adjustments solidified their defense, brought fresh perspectives to the team, and injected energy through young players. Influential players like Sinha, Wilder Medina, and Paulo da Silva played crucial roles in their resurgence. Memorable matches against Club América showcased their intensified rivalry.
FAQs
Is the Toluca soccer team good?
Toluca is the third most successful team in the Mexican Primera División with 10 championships, behind América (13) and Guadalajara (12).
Where can I watch Deportivo Toluca FC vs. Club America?
With ESPN you can watch Club América vs. Deportivo Toluca F.C. and a ton of other matches. You can watch the game on your computer, smartphone, tablet, Roku, Apple TV, or by connecting it to your TV using Google Chromecast with the legal streaming service.
Which match is the most recent between both teams?
The most recent match between America and Toluca was Tour Águila 2023 on 24 September 2023 held at Estadio Nemesio Díez.